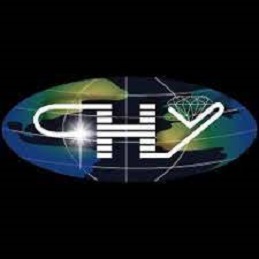 Chymall Sairuimall is a SCAM | Stay away
Chymall Sairuimall is a SCAM | Stay away
Chymall as they call it is an online marketing platform which promise you 5% of your investment every 10 days. This implies that in a month you have 15% of your investment, and 90% in 6months. which means they are just giving you back your capital gradually without adding any profit for more than 6 months.
This keeps your capital with them as long as they wish, while you on the other end trying to earn from referral brings people to invest into the business which earns the company more investors who won't make their capital investment if they do not refer people.
Chymall site has a very poor development, it doesn't even fit to screen of a phone when browsing through because it is not mobile friendly. It has poor layout and has every signal of scam on it. It FAQ page looks childish and poorly developed with errors in the words written on it. No professionalism, no proper organization, no verified online payment method supported in their site
Their CEO is a self acclaimed billionaire who is not on Forbes list of billionaires in china as a well know business man, he is not even on wikipedia, chymall do not have policy page neither do they have a verified means of online payment in their site. Poor development, with poor ICT knowledge.
Here on this post I will prove to you that both chymall and sairuimall is a scam, They are scam project which is projected to scam innocent people.
First, chymall started up as sairuimall 2019. The domains sairuimallnig.com, sairuimall.com.ng, sairuimallnigeria.com all was registered in September 2019, and October 2019 respectively. The pictures below will show you date of registration, date of updating and expiring date of the domains, with name of the registrant and address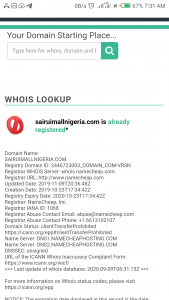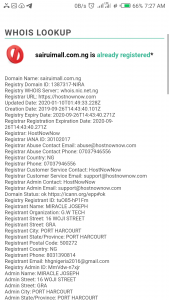 In this picture, you will clearly see the registrant as miracle joseph from port Harcourt Nigeria. These domains was registered and few  month was paid for during the registration. The domain was purchased to be used for only few month, which was later updated when they noticed there is progress in their scam scheme, they updated the domains to keep moving.
The domains of cause where scattered around by the group of persons who are promoting the scheme, do not be deceived as there is no free money in the internet.
chymall review, scam or legit
Chymall is a scam, and i have to prove it to you with few points. First, the site name chymall.net was registered June 2020. This is a very big red flag, they claim the registrant name is Alibaba cloud company, that is a very big lie, Ali baba company doesn't have time for such petty deals of promising investors 5% returns on investments or what ever capital
Here is the picture that shows it all.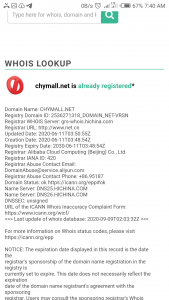 They have different packages that ranges from the sales of perfume to glass to pendent, which its health benefits remains unproven by health authorities. The company claims to sell the products for you, in 10 days, please who do they sell it to? this is a big lie.
This company uses new investors money to pay old members, And that's what makes it a pyramid scheme, They will tell you referral is not compulsory, but you will refer to earn bonuses, if you do not refer, you will end up staying in the company for 6months without making your capital.  Stay away from them.
Why couldn't chymall engage in other businesses or products, like phone,  home accessories just like other MLM, like longrich and so on? Because they are not coming to last
Of cause after they read my review, they will try to make changes to their site, which still doesn't justify them. Stay away!!
Yes, it might pay you and others for now, but eventually with time it will crash.
They claim to be registered with CAC with no proof of that in their poorly developed site, Being registered with CAC is not a criteria that justify its legitimacy. Any one can Register any company with CAC.
Stay away!