Africapayz. cash Review
Africapayz is a scam site. After our team reviewed the site we noticed a lot of loopholes which are very strong signals of scam alerts and that's how the site works.
Africapayz. cash is a Ponzi scheme which is also called a pyramid scheme, robbing peter to pay Paul and leaving Paul in tears afterward. We know many Ponzi sites out there which has crashed and this one is no different.
Africapayz. cash review from all instances confirms it is a scam as the site has poor development, the script used was a cloned script used on overtaxing. You can see the screenshot here as they did not edit it properly, and the name of the previous site still shows on it.
Africapayz. cash domain was registered on July 21st, 2020 at Namecheap, and the registrant hides his Name and contact address. Here is the picture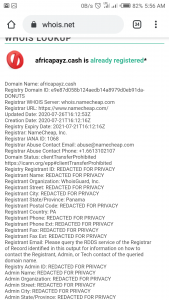 Africanpayz. cash investment is s scam as the site does not have a terms and conditions page, and has no contact us page, which means if a customer or client has issues, nowhere to get help from. They do not have a good social media handle.
The admin of the site eats the major earnings as get the 1000 activation fee to themselves and also sometimes they merge investors to themselves and crash the system at the expense of investors.
It might pay you now, but it will crash afterward. Be careful.