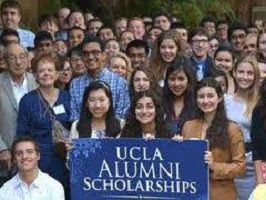 UCLA Alumni scholarship 2020
ALUMNI SCHOLARS CLUB
Students who receive Alumni Scholarships automatically become members of the Alumni Scholars Club (ASC). Under the umbrella of the UCLA Alumni Association, ASC functions like a student club but with many more professional development opportunities. These include general quarterly meetings, alumni mentorship, community and UCLA service projects, mixers and social activities, career and leadership workshops, and networking opportunities with alumni.
ASC VISION FOR UCLA Alumni scholarship 2020
To unite and utilize the talents of Alumni Scholars in order to fully embrace service, leadership and community by adopting PIECES, the organization's strategic goals:
Promote opportunities unique to the UCLA Alumni Association.
Identify and promote service programs to Alumni Scholars.
Encourage a strong social bond among Alumni Scholars.
Create productive relationships with alumni.
Encourage leadership among Alumni Scholars.
Support scholarships for the education of promising students.
ASC HISTORY
In 1976, the UCLA Alumni Association founded ASC as a support group for students who had received Alumni Association scholarships. ASC originally focused on social activities to foster community among like-minded students.
Today, ASC coordinates a variety of student development programs in conjunction with the UCLA Alumni Association. The club's executive board develops and implements projects with support from more than 200 active ASC volunteers. It has redefined its purpose to show that student support goes beyond the monetary contribution of the scholarship.