WAEC GCE BIOLOGY PRACTICAL ANSWERS 2020
Here is waec gce biology practical answers 2020, share with your friends and good luck.
Biology Practical Answers!
(2a)
I. Elephant
II. Zebra
III. Rhinoceros
IV. Crocodile
V. Lion
(2b)
Mammals
(2c)
Endangered species
(2d)
i. Avoid bush burning
ii. Avoid hunting
iii. Avoid deforestation
iv. Avoid farming activities
v. Avoid mining activities
(1a)
(i)Nutrition
(ii)Movement
(1aii)
(i)Possession of short break for pecking
(ii)Possession of long break for piercing and sucking
(iii)Possession of short beak for pecking
(iv)Possession of long beak for piercing and sucking
(v)Possession of sharp claws for scratching the soil
(vi)Possession of web foot for swimming
(vii)Possession of hind limb for locomotion
(viii)Possession of feet for standing on water
(1b)
(i)Terrestrial habitat
(ii)Aquatic habitat
(iii)Terrestrial habitat
(iv)Aquatic habitat
(1c)
(i)parrot
(ii) domestic fowl
(iii) duck
(4ai)
Tree
(4aii)
(i) temperature
(ii)rain fall
(iii) sunlight
(iv) topography
(v)wind
(4bi)
(i)it reduce fertility of the farmland
(ii)it affect the topography of the farmland
(iii)it may cause erosion
(iv)it affect Agricultural activities
(4bii)
(i)It causes imbalance
(ii)It affect the survival of organisms
(iii)It may lead to flood
(iv)It affect the distribution of gases
(4c)
(i)by issuing license
(ii)by stopping unnecessary exploration
(iii) government should promote a law that will reduce entrance into the forest
(iv)by encouraging afforestation
(4di)
(i)Y
(ii)Y
(iii)X
(iv)X
(4dii)
This is because they won't be easily identified on those barks.
(4dii)
Adaptation
(4ei)
According to the theory of natural Section S will be able to live successfully on the bark due to the possession of some characteristics
(4eii)
Flycatchers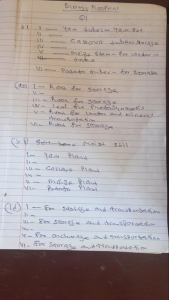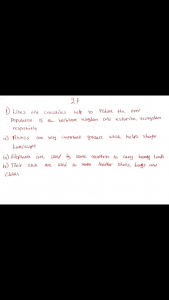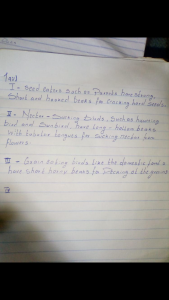 More answers loading
Cheers…