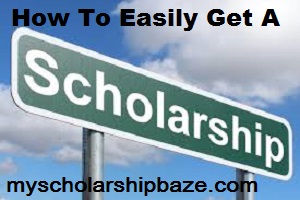 How To Easily Get A scholarship
How To Easily Get A scholarship
Scholarship are vital opportunities that abound for students whose mission are to study abroad with the aid of governmental organizations, Institutions or individual issuing scholarship to them to promote their academic goal of excellence to greater heights.
i previously wrote on best scholarships to apply, you can see it Here
Here are the few ways on How To Easily Get A scholarship
1. Know The Different Types Of Scholarships based on different factors. Some scholarship are granted to individual based on his  academic achievement with his higher institution of study.
Some scholarship are awarded based on athletic ability. You can be offered a scholarship through sports based on your athletic
ability to represent your country or citadel of learning oversee for a global game fiesta.
2. Find The Perfect Scholarship For Yourself – Scholarship is beyond what we think some times and it only takes a thoughtful student to findthe Perfect Scholarship that suit her personality and purpose in life.
The same way you put in all your strength, time, and commitment to find a right partner should be the same way you should follow to find
the perfect scholarship for yourself.
And these  are the  progressive ways to find a perfect scholarship for one self.
Talk to friends and family.
Talk to people on social media of your choice.
Explain your intention to an organization and implore them to sponsor you.
Talk to counselors and do thorough research.
3. Compile Requirements – If you are chosen for multiple scholarships the best way to go for it is to apply with requirements through
solidarity letter to the body in charge.
Each of the scholarships requirements to be submitted to the appropriate quarters must vary to each other, and must be transparent
and credible.
4. Cover Letters – This is a measure taken by the applicants to give a vital information about your background, academic qualifications and
convince them judiciously the reason you think the scholarship should be the best you deserve.
5. Essays – Some scholarships will prompt you to write one or two essays to distinguish yourself from others and see yourself having
good chance to earn the scholarship.
Your essays must be thorough explanatory. essay writing sample is right here for you