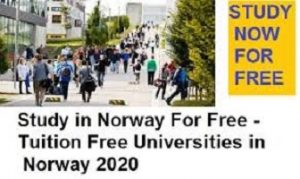 Tuition Free Universities in Norway 2021
Tuition-Free Universities in Norway 2021
Norwegian state universities and university colleges as a rule do not charge tuition fees to all students including international students. This applies to all levels, including undergraduate studies, Masters's programs, and Ph.D. programs.
However, students will have to pay a semester fee of NOK 300-600 each semester. This is why myscholarshipbaze.com is putting up a list of universities in Norway with
Note that some state universities and university colleges may have tuition fees for a few specialized programs which are typically at the Masters's level.
Most private institutions have tuition fees for all their programs and courses. But the fees are usually significantly lower than those of comparable studies in most other countries.
Also, foreign students don't pay higher tuition fees than Norwegian students.
Cost of Studying in Norway: You should take into consideration that living expenses in Norway are higher than in many other countries.  Living expenses would amount to NOK 90,000-100,000 per year.
You can find institutions of higher education located all over Norway. The major cities may have both a university and various university colleges.
In addition to regular programs like humanities, social sciences, and natural sciences, every institution has its own specialty areas. Combine your academic interests with an exciting geographical location!\
here is the full list of Tuition Free Universities in Norway 2020
BI Norwegian Business School:

BI Norwegian Business School is Norway's only triple-accredited school. they offer a range of degrees. click for  MORE INFORMATION
Østfold University College: Østfold University College has around 100 studies taught in new and modern premises. The university college has a total of just under 7000 students.
WE RECOMMEND