False prophet predicts the Sudden death of DJ Cuppy
A self acclaimed seer who uses his facebook page to write and predict events has predicted the sudden death of dj cuppy right in her house due to excessive use of drug.
The seer who has successfully predicted the sudden death of the Pastor of Synagogue church of all nations, TB Joshua on May 10 2021 on his Facebook, which later came to pass on June the same year, has predicted the sudden death of DJ cuppy. This prophecy or predictions has not come to pass as of the time of writing this post, and we hope
We don't pray for anyones death, and prophets should also prophecy good things.
Here is a screenshot of his facebook posted dated 10th May 2021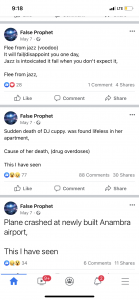 You can see other of his predictions. We hope non of them comes to pass.