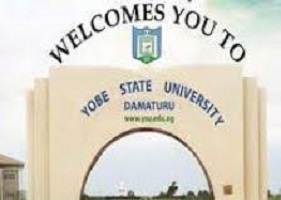 courses offered at Yobe State University 2020
courses offered at Yobe State University 2020
It is important you know the list courses offered in Yobe State University, this is essential to ease the stress of choosing a particular course to study in the high institution.
Many aspirants who intends going to different institutions asks information on the list of courses offered by the institution of their choice, some choose an institution because of the courses they offer and that's why we compiled the list of courses offered in Yobe State University for its prospects.
Basically, list courses offered by institutions varies, Federal universities offers relatively the same courses, state universities offers almost same courses, while polytechnics offers courses relative to them or their specialization. Each Private universities also has list of courses they offer.
Most university offers list of courses that they have accreditations to, and also they have qualified lecturers handling it.
Here is the list of courses offered in Yobe State University
ACCOUNTING
ARABIC AND ISLAMIC STUDIES
ARABIC STUDIES
BIOLOGICAL SCIENCES
BIOLOGY
BUSINESS ADMINISTRATION
BUSINESS EDUCATION
CHEMISTRY
COMPUTER SCIENCE
ECONOMICS
EDUCATION AND ARABIC
EDUCATION AND BIOLOGY
EDUCATION AND CHEMISTRY
EDUCATION AND ECONOMICS
EDUCATION AND ENGLISH LANGUAGE
EDUCATION AND GEOGRAPHY
EDUCATION AND HAUSA
EDUCATION AND HISTORY
EDUCATION AND ISLAMIC STUDIES
EDUCATION AND PHYSICS
EDUCATION ARTS
ENGLISH LANGUAGE
GEOGRAPHY
HAUSA
HISTORY
ISLAMIC STUDIES
LAW
MATHEMATICS
MEDICINE AND SURGERY
PHYSICS
POLITICAL SCIENCE
PUBLIC ADMINISTRATION
SCIENCE EDUCATION
SOCIOLOGY
SOCIOLOGY AND ANTHROPLOGY
STATISTICS
Thanks for checking it out, good luck in your choice of university and course to study. You can also check the Yobe State University Cut off mark and Yobe State University Post utme here. Comment below for any issue here.