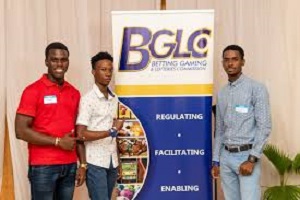 BGLC SCHOLARSHIPS 2020
The annual Betting Gaming & Lotteries Commission BGLC Tertiary Education Scholarships 2020 is awarded to undergraduate students who will either begin 1st year studies at accredited local tertiary institutions or are currently enrolled to continue studies.
The BGLC Tertiary Education Grant is given to tertiary level student(s) who best meet the requirements outlined below.
Guidelines for the BGLC SCHOLARSHIPS 2020
The BGLC Education Grant is open to graduating high school seniors and students currently enrolled at accredited local tertiary institutions.
The BGLC Scholarship is paid directly to the educational institution in the student's name.
Applicants must meet the following guidelines:
1. Be no older than 26 years at September in the year of application
2. Confirmed to attend, or currently attend an accredited local tertiary institution
3. Must have a Grade Point Average (GPA) of 2.75 on a 4.0 scale.
4.Must have acquired acceptance to, or be enrolled at the institution of his/her choice and enrolled for the semester beginning September of the year of application
5. Submit the completed Essay on the specified topic
6. Provide 2 References on the Referee Affidavit Form and submit with the application in the Referee's own sealed envelope addressed to the BGLC.
7. All applications and supporting documents must be received by the deadline date.
BGLC scholarship applications are to be submitted on the BGLC's authorized form which will be available when applications open on May 2020.
The Betting, Gaming and Lotteries Commission (BGLC) has established an Education Fund (BGLC Scholarship) as part of its Corporate Social Responsibility Programme.
The aim of the Fund is to contribute to the welfare of children through education and ultimately assist in their enlistment.
To this end, assistance will be offered, in the first instance, to tertiary level students in the Hagley Park Road area, in the vicinity of the new headquarters of the BGLC.
A Steering Committee has been established to oversee the introduction of the programme and administer the Fund. Members include educators, representatives of the church and the business community who will liaise with BGLC Board of Directors on the following:
The eligibility criteria for beneficiaries of the Fund;
The approval process;
Monitoring of the use of funds;
Establishment of a portal on the Commission's website which will be used to publicize and accept applications each year.
The BGLC Education Fund- FAQ's
What is the BGLC Education Fund?
The BGLC Education Fund provides a grant and a BGLC Scholarship, which aids students at tertiary level. It is paid directly against the students annual tuition fees.
Who is eligible to apply to the BGLC Education Fund?
All Students enrolled in or accepted to a Jamaican tertiary institution, accredited by the UCC.
When is the deadline for application to the BGLC Education Fund?
Applications may be submitted starting May – July annually
How will successful applicants be notified when selected?
Successful BGLC Tertiary Education Grant applicants and institution will be notified via email by August each year.
What is the time frame and method of disbursement of funds upon selection?
Disbursement will be made before the beginning of the school term and will be made payable directly to the tertiary institution.
What can the BGLC Education Fund grant be used for?
Grant monies may be used towards TUITION only.
Do I need a reference?
Yes, 2 are required for all applicants. Referee Affidavit Forms are available for download from The BGLC website.
Forms must be signed stamped or sealed and delivered in an unopened original envelope. Envelopes must be addressed to "The BGLC Education Fund Committee".
Do I need a certain GPA?
Yes, successful applicants must have a Grade Point Average of 2.75 or above to qualify for the grant.
Can the award be deferred?
No the award may not be deferred to a later date or time
Do I need a TRN?
Yes all applicants must have a TRN.
Can the award be shared?
No the award may not be shared. It is issued to a single applicant and paid directly to the tertiary institution.
Where do I get an application form?
Application forms are available for download from the BGLC website. click here to download
What accompanying documents will I need for my application?
Completed application form
Passport sized color photo
A copy of a national or student ID
New students must submit high school transcript and acceptance letter from tertiary institution
Returning Students must submit a transcript advising of their promotion to the next school
year along with a letter of good financial standing from their tertiary school bursar's office.
Two (2) referee affidavit forms completed, signed and sealed by 2 referees. Forms available on BGLC website.
How do I submit my BGLC Scholarship application?
Completed application package should be hand delivered or mailed by post to:
BGLC Education Fund
Betting Gaming and Lotteries Commission
78cef Hagley Park Road
Kingston 10
Thanks for reading this topic on our web page, and please do well to book mark us and check out other related posts as well.
Good luck on your endeavors, we truly care.
WE RECOMMEND