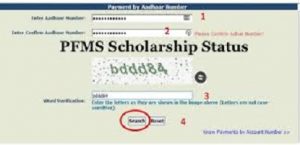 PFMS Scholarship 2020 – Eligibility Criteria, Status, Renewal Process
The complete eligibility criteria details shall be enlisted in the official brochure overseeing the PFMS scholarship. Candidates have to cross-check their minimum eligibility requirements and all other conditions thoroughly before they begin with the application form submission.
Also, if any candidate is found not to satisfy the minimum criteria stated in the brochure, then such candidates shall be disqualified from applying for the scholarship. 
The various types of scholarships available are based on different sub-criteria but defined by a few standard enlisted main criteria. 
Every detail needs to be checked before proceeding to the main application submission step. The eligibility criteria are listed below: